The summer break is over and today is the first day of the new academic year. We are all thinking about the fresh start that awaits us at school. The following is taken from this morning's assembly, which allowed me the privileged opportunity to greet the very special community that is BGS. I hope you enjoy what follows, peering into BGS life, where education makes a difference within and beyond the classroom and 'excellence' is within everyone's reach.
Good morning and welcome to a new year, a fresh start at Bradford Grammar School.
I hope you have enjoyed a great summer break. It was well deserved after your efforts last year and I hope you are ready for a new term and all that will bring. Teachers and parents are always full of advice and 'right from the off' I would like to encourage you to take full advantage of everything that is on offer both inside and outside of the classroom. Make the most of BGS and give it your best. What more could anyone ask? I will expand on that theme shortly.
We extend a particularly warm welcome to our new starters, students and staff alike, who join the BGS family today. There are many fresh faces in the Price Hall and you are all very welcome. To students and colleagues alike, new and more familiar members of our community, I hope you find fulfilment and happiness at BGS. Enjoy the challenge, seek out opportunities to improve and grow and take your chances.
We have every right to begin our new year with confidence and positivity. Don't forget or skim over the fact that we begin the year as The Sunday Times Northern Independent School of the Year. Students and staff, with the support of our families, worked hard to gain this accolade. It was recognition that we did not seek for ourselves; it arrived unexpectedly. (It is always nice to get a compliment, especially when it is unsolicited).
We are a modest bunch in Bradford, a virtue too often misunderstood. However, we should not be shy about recognising our strengths. BGS is in fine shape and this has been another fantastic summer for us, confirming the recognition we received last year. An expedition to Nepal, a Combined Cadet Force camp to Swaledale and sports tours to Australia for netballers and Canada for our rugby players were all great successes. Well done to everyone who participated in these wonderful trips. I hear you had a lot of fun and represented BGS brilliantly.
Well done also to our new Year 12s and our recent Sixth Form leavers who did themselves proud in public exams. The work that begins at a young age, which builds slowly but steadily into positive work habits really did pay off.
Please make no mistake, exam success, achievement of any kind when it really matters, builds gradually over years. Nothing is wasted in youth. It is not really about the knowledge that comes and goes in your head; it is more about how you apply yourself, the spirit in which you face life and make the most of it. Who you are and what you do – the choices you make – these things matter most. Your character builds with time.
Year 12s … well done! Your exam scores were record breaking with 76% of all grades at A*A / 7-9 level and a 99% pass rate. Amazing, particularly given the fact that you were guinea pigs for new curricula and exam formats. Remarkable. Well done to you all for the full range of GCSEs that you achieved. You showed a lot of character to achieve these rewards and now take on the mantle of role models in our Sixth Form. Our leavers did themselves proud too with a 54% A*A total and a 100% pass rate. Needless to say, we are delighted for them.
As I have said before, whilst we are rightly proud of the overall balance of results, it is the many individual stories of accomplishment and success that will stick longest in the memory. The personal, human dimension is key. Not everyone achieves the highest grades, but if you have worked hard and done your best, we can ask no more. Again, I am alluding to character, to spirit!
Year 7s. Welcome to the party. However, an initial word of caution. It will not always be easy at BGS, life is never an entirely smooth road wherever you are in the world, it is not meant to be. However, remarkable achievements are within your grasp, if we work together and look after each other. I know there are exciting times ahead at BGS and memories and friendships to make that will last a lifetime. Do your best.
Challenges and opportunities await you all. Successes and stumbles on the road await you all. Such is life. If we are going to win through in the long term, we all have to learn how to respond positively to both the rough and smooth of life, together.
So, a new term and a fresh start. It's exciting. Nevertheless, are you also just a little bit nervous about this? If you are, don't worry. It's okay. I'm nervous, just a little. I know my limits (and as I get older these seem to increase!). I doubt myself. I look around and wish I had the talents and strengths that others seem to possess. This is the truth. My dyslexia, which always scrambles the words I try to say in assembly, and in any speech I make, provides a daily challenge. I have limits, I make mistakes. Please forgive me for these. However, nothing stops me from getting stuck in and giving life – work and play – an honest 100%. Nerves, doubts, these are natural conditions of healthy living and should not hold anyone back.
The following pictures are of a Scottish sea stack, The Old Man of Stoer. You have to swim out into the Atlantic to climb it, but not before setting up an elaborate system of ropes and pulleys to haul your gear over from the mainland. I was climbing fairly hard when I attempted various climbs on this stack.
It was not the technical difficulty of the climbs themselves that made me nervous and question if I was up to the test, it was the overall challenge and high adventure that tackling this off-shore sea stack represented that played on my mind.
However, there I was, in my twenties, with no fashion sense or hair even back then (although that was choice in 1997). I remember my confidence growing in that moment, as the photo was taken.
These next pictures show where I have tackled many of the most committing routes in my climbing experiences to date. The north face of Ben Nevis in winter. My pulse quickens just looking at this photo. I can see the triangular buttress of rock that is the Northeast ridge, giving way to the Orion Face, Observatory Buttress, Tower and Castle Ridges with various icefalls and gullies in-between.
This was my first Grade 5 ice climb, which is a reasonably serious proposition with steep, narrow and sometimes short overhanging sections of water ice. I also recall a potentially unstable basin of powdery snow at the end of this route and a large cornice just before topping out, both of which got my attention.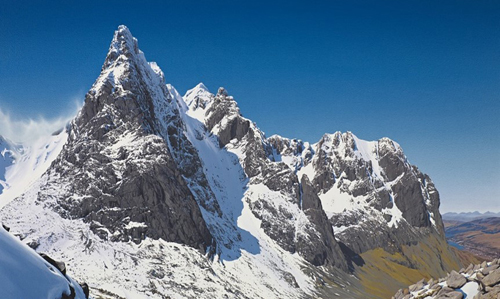 I was always nervous and never completely sure I would get to the top of the trickier routes I attempted; and the consequences of not succeeding could sometimes be quite interesting.
I did not tell my mum much about my climbing. I did get to the top of this, Point Five Gully, on more than one occasion. The sense of achievement and relief each time was nothing short of exhilarating, a powerful 'rush', particularly the first time.
As I teacher I have had the privilege of introducing many young people to the world of mountaineering and adventurous travel. Below is Cotopaxi in Ecuador and you can see two Sixth Form groups approaching the summit during a school expedition.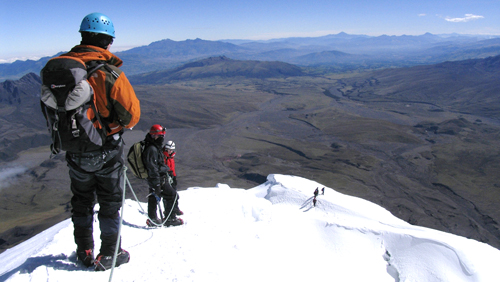 Below is another picture of another party at the summit. A small gathering out of fifty plus school students who summited that season.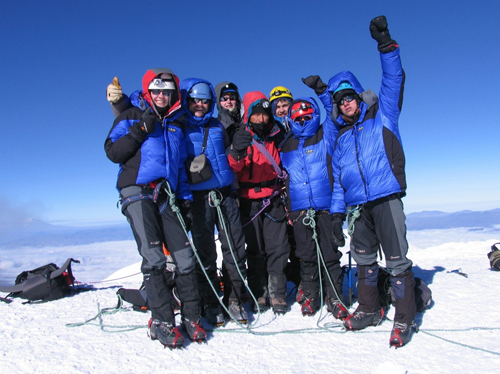 Next is the summit ridge of Nevada Pisco in the Cordillera Blanca, Peru; here we see colleagues and, in the background, Year 11 students on the summit. When leading people on mountains such as these I am not nervous for myself; I get nervous for others. I ache to see the young people and colleagues in my care succeed, meet the challenge, and to feel something incredible when they have dug deep and met personal goals. I care about them. I want them to achieve, to be happy, but the truth is they never all reach the top.

I am trying to tell you something about the nature of true challenge and what real achievement feels like – the power of that sensation and the strength it gives you.
It is okay to be nervous. You are allowed to be both excited and apprehensive sitting here in the Price Hall right now. Remember you have all achieved a place at Bradford Grammar School on merit – that counts for something. You can do this. You can achieve so much with the right attitude.
It is not okay however to sit back passively and let life wash over you. This last photo is of students tackling the crater rim, the final push, on the climb up Kilimanjaro in Tanzania. Boundless African plains and rift, the curve of the Earth on the horizon.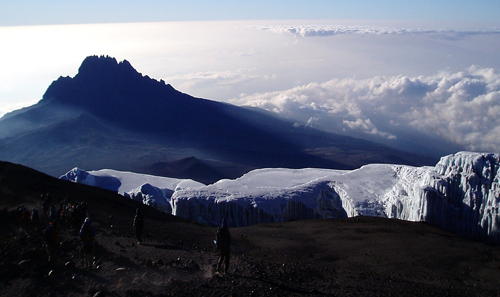 However, after assessing the climbing still to be done, often as dawn breaks, lighting up the challenge ahead, some folk chose to stop at this point. Why? Would you?
I love our school motto, Hoc Age. It speaks volumes to me about our school over the ages. It represents BGS, Bradford, northern character and provides a credo, an encouragement, for life.
Interpretations can vary slightly but Hoc Age roughly translates as 'get on with it', 'do it'. Good advice if you ever find yourselves tramping the long miles of the Kilimanjaro slope. We rightly aspire to excellence at BGS; it is not immodest, arrogant or snobby to say so. Why shouldn't we aim to be the very best we can be? Being honest, modest and embracing doubt (and a few jangling nerves) on a journey towards success is all part of 'excellence' in my thinking. Hoc Age, our motto, tells us how to achieve excellence. Simply get on with it – less talk, more action.
Which is sound advice for this particular Headmaster.
Good luck, colleagues and students of all ages. I genuinely want the very best for you all. If we have any nerves this morning then I suggest we embrace, not ignore, them; we are amongst friends and there is much we can achieve together. Nothing should hold us back. Excellence is within reach.
Thank you for listening and let's get started.
Hoc Age.
"Remarkable achievements are within your grasp, if we work together and look after each other. I know there are exciting times ahead at BGS and memories and friendships to make that will last a lifetime.

I ache to see the young people and colleagues in my care succeed, meet the challenge, and to feel something incredible when they have dug deep and met personal goals. Good luck, colleagues and students of all ages. I genuinely want the very best for you all. If we have any nerves this morning then I suggest we embrace, not ignore, them; we are amongst friends and there is much we can achieve together. Nothing should hold us back. Excellence is within reach."