Project Description
"Beyond the headlines, we are keenly aware of the many individual successes that represent a triumph for those students who realised or exceeded expectations at all levels of achievement."
Simon Hinchliffe
Headmaster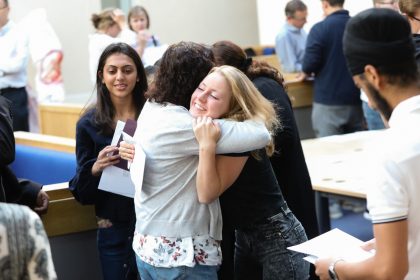 Tegan has already embarked on a Solicitor Apprenticeship with Kennedy's in Sheffield. Her strong results mean that she will be able to progress to a Degree in Law when the time comes in the vocational seven-year programme. Sporty Tegan, a lifeguard and Jujitsu competitor started in Year 7 was also chair and coach of the Debating Society that won a national competition in her final year.
Emma Peacock
Two A*s, One A
"It's absolutely fantastic and an amazing feeling, I'm really pleased and looking forward to what's next in the future. I'm going to study Philosophy, Politics and Economics at Durham University, so everything's looking bright."
Anish Pulavarti
Straight A*s
A keen cricketer from Bingley who has been accepted to study Mechanical Engineering at Imperial College. He said, "I was aiming for top results, but I am surprised. I'm looking forward to a new start and excited by the prospect of heading to London."
Benjamin Laljee
Straight A*s
"I feel pretty good to be honest, I was aiming for good marks but wasn't expecting it. I am looking forward to getting stuck in at University – the course is four years with one spent in industry" His Mother, Jess, said," He's worked so hard for this, he deserves the success, I am very proud of him."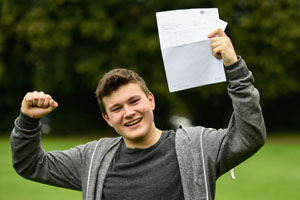 Kalvis is set to become an airline pilot as his results mean that he is heading off to Oxford Aviation Academy on an EasyJet training scheme. Kalvis, the youngest to apply for the vocational course, said 'I'm extremely overwhelmed it is a dream come true, something I've thought about since I was 11."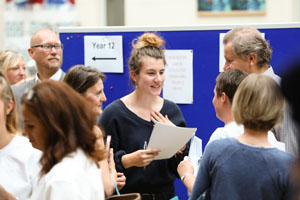 Fiona Holdsworth
A*, A, A, A
"I'm so pleased, I can't believe it. It has been a hard year of work, but I gained lots of support and it has really been worth it. BGS provides so many opportunities it's not just the academic side but other opportunities, I also love sport and I'm a Hockey goal keeper and it's nice to be encouraged to do extra-curricular activities as well pursuing good grades."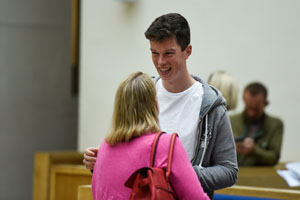 Edward Phillips
Straight A*s
Deputy Head Boy, from Burley-in-Wharfedale is thrilled with his four straight A*s, but said he was "glad the waiting is over". He has accepted his first choice offer from Warwick University to study Economics. His mother Jo said, "I'm delighted, he even managed to pip his sister, Emma, who's studying at Cambridge, by an A*".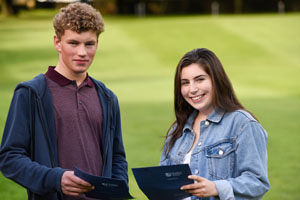 "I'll certainly be going out to celebrate with friends for lunch. I'm so excited to get my first choice at Durham University. It's a fascinating subject; I did my Extended Project Qualification on the study of genetics so I can't wait to take this further into higher education."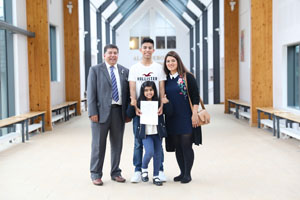 Ali joined in the Sixth Form has gained the results to study Mechanical Engineering at Leeds University. He said, "I'm over the moon, I really dedicated myself to my studies, the great learning environment and teachers at BGS made all the difference". His mother Mrs Atif always had confidence in Ali, we worked really hard and did everything necessary to get his results, I'm really proud of him."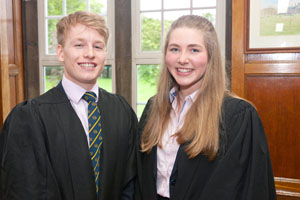 Max has been accepted to study Engineering at Robinson College, Cambridge. He said, "it hasn't sunk in, I'm absolutely elated, it's an exciting and daunting prospect. I'm very grateful to all of the constant and incredible support from the School, friends and family". Mother, Charity Orviss said that she was, "immensely proud, all of Max's hard work has paid off."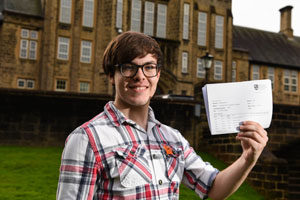 Christian Cardwell
A*, A, A
A keen climber and cross country runner who scored an impressive A* and two As to go on to study History at Leeds University. Christian said: "It feels really great, I needed three As to get into my first choice university at Leeds to study History and I surpassed that with an A* so I'm over the moon! I'll be heading out with friends later for sure to celebrate."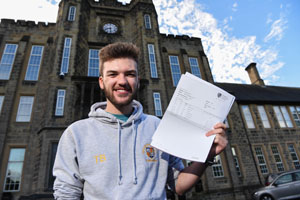 "It was fantastic seeing my results and knowing I'd done well. I can't wait to celebrate properly! I also feel lucky to have other opportunities at BGS like being the Vice-Captain for Rowing and enjoying other sports – it's not just about the results but your overall experience."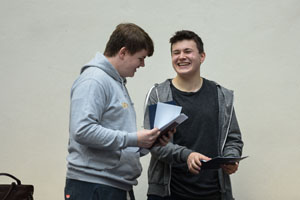 Benjamin Norton
Straight As
Benjamin who started at BGS at the age of six in the Junior School said, "I can't believe it to be honest, I'm really excited to get the chance to read Computer Science at Birmingham University". Mother, Fiona commented that she was, "delighted really thrilled that he got what he needed to study at his first choice university".
Matthew Parry
A*, A*, A*, A
The keen drummer and singer from Ilkley has been accepted to Cambridge to study Modern Languages. Also a keen rower and cox of the BGS rowing team, Matthew said, "I chose St John's College, Cambridge as they have the best rowing team in the country, so I'm really excited to get my first choice". His mother Dani said that she was, "shell shocked and relieved." His sister Sarah, who also attended Bradford Grammar and now studies at UCL was, "elated for him, it's such a fantastic opportunity."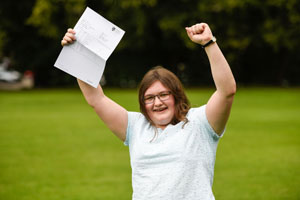 Melissa Knapton
A*, A*, A*, A*
The synchronised swimmer and talented flautist from Halifax was over the moon, "it feels absolutely amazing, I can't believe it! I'm be going on to study Mathematics, Operational Research, Statistics and Economics (MORSE) at Warwick University. The degree itself is unique: no other university in the world offers an equivalent programme and it makes graduates more employable worldwide. So that's all really exciting!"
Nathaniel Davey
Straight A*s
"The results exceeded my expectations which is great, I'm so pleased. Apart from the results, I have had great opportunities, getting involved, and going cross-country running and made so many friends. I'll definitely be going out with friends later to celebrate!"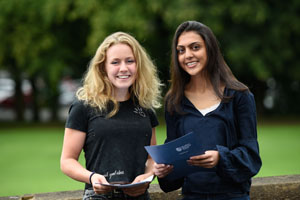 Priyanka Patel
A*, A*, A, A
A talented piano player from Bradford excelled scoring two A*s and two As. She will go on to study Chemistry and Imperial College London, "I'm still in shock! It's scary but so exciting. I'm so grateful to all of the teachers for believing in me."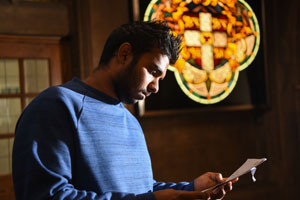 Michael Beadle
A*, A*, A*, A
The keen lifeguard and Waterpolo Captain will go on to study Medicine at Nottingham University. Michael said: "I'm a bit in shock really. Not quite sure what to do with myself. It's all such great news and lovely to be able to relax and be excited about the future now. Getting into my first choice university at Nottingham to study Medicine has totally exceeded my expectations."
"I am delighted to congratulate our students on some outstanding results this year; with a 100% pass rate, our results remain exceptionally strong. This is great news for BGS and the wider educational scene in Bradford."
Simon Hinchliffe