Old Bradfordian
Upcoming Events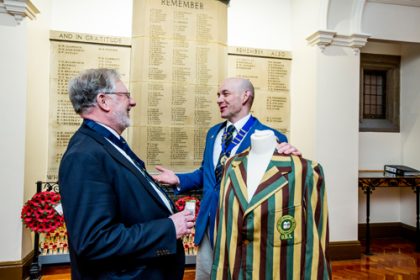 Saturday 23 March
OB vs. BGS Swimming and Water Polo 2019
Bradford Grammar School's annual swimming and waterpolo fixture. OBs compete against current BGS pupils.
We always have many BGS students ready and up for the challenge so please come and take part or spectate and watch the rivalry unfold.
Old Bradfordians vs Bradford Grammar School schedule:
Venue: Adrian Moorhouse Swimming Pool at BGS
Family Swim: 2.00 – 3.00pm
Swimming: 3.00 – 4.00pm
Waterpolo: 4.00 – 5.00pm
Refreshments will be served in the dining room afterwards.
If you would like more information please email oldbradfordians@bradfordgrammar.com or call 01274 553710.
Saturday 6 April
BGS Cross Country Club's Heaton Woods OB event
It gives us great pleasure to announce the BGS Cross Country Club's inaugural Heaton Woods Old Bradfordian event.
The Brownlee Pavilion will be open from noon for changing, with the aim of meeting at the traditional starting point on Redburn Road for 12.30. There will be two run options, with the hope of catering for different levels of current fitness. Afterwards the plan is to reconvene in the pavilion and chat over fish and chips. In the evening, some may wish to continue the social element of the event by joining us down at the 'Mucky Duck'.
For those of you who remember Tony Kingham and Selby Brock, it is worth pointing out that they will, of course, be invited.
Please register your interest by emailing Mike McCartney on mm@bradfordgrammar.com
Saturday 21 September
OBA Annual Dinner 2019
The Annual OBA Dinner is returning to School this year, with catering provided by County Catering.
Please make a note of the date – more information and invitations will follow.
We are intent on making this event a great success and with this in mind we hope that you will spread the word amongst as many OBs as possible. In particular we are keen to have a good representation of former girl pupils bearing in mind that 2019 marks the 20th anniversary of the School becoming fully co-educational. As always partners and other guests will of course be most welcome.
Please register your interest by emailing oldbradfordians@bradfordgrammar.com.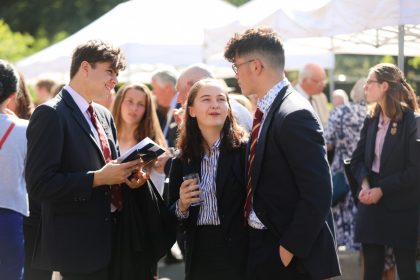 Friday 5 April
OBA 1940s and 1950s Reunion Event
We are delighted to invite you to celebrate the 70th anniversary of Bradford Grammar School on the Frizinghall site at this year's OBA 1940s and 1950s Reunion on Friday 5 April.
This year's Reunion will take place in the DH Room from 12pm to 4pm and will include a drinks reception and buffet lunch, speeches, exciting entertainment, 'class' photos, as well as opportunities to see school memorabilia. Optional tours around the school will follow, after which you are invited to attend a special 70th anniversary school assembly in the Price Hall, led by the Headmaster and providing you with the opportunity to connect with our current pupils.
This event is now fully booked.
Wednesday 17
or

24 July
Bacchus Cup Golf Competition
The Annual Golf Competition for the BACCHUS Cup will take place at Shipley Golf Club on either Wednesday 17 or 24 July 2019 in the afternoon.
Participation is restricted to Members of the Association but guests may be invited. It is not essential to fix up playing partners, competitors may go out in twos or threes. The competition will be an 18 hole Stableford played from the yellow markers. There will be prizes for the winners, including a guest's prize.
There will also be a 2 course dinner with coffee, following which the Prize Presentation will take place. Shipley Golf Club requires that all golfers should be in possession of a current Handicap Certificate. Smart casual wear can be worn in the Dining Room. N.B. The competition entry fee in 2018 was £23 plus £16 for dinner. TOTAL = £39
Any further details can be obtained from Roy Aspinall – royasp26@aol.com
OB Club (London) Ltd Events
The OB Club (London) Ltd run regular events for Old Bradfordians living in or visiting London. All the events are listed here.
More events to be announced throughout the year!
We hope to see you at one of our upcoming events.
If you would like to receive invitations to these events and relevant Old Bradfordian news, please let us know by updating your details here. You can view our privacy notice here.
For all Old Bradfordian enquiries please call the Old Bradfordians office on 01274 553710 or email oldbradfordians@bradfordgrammar.com.
Click here to see our full list of Notable Old Bradfordians who have become very successful in their chosen career paths.