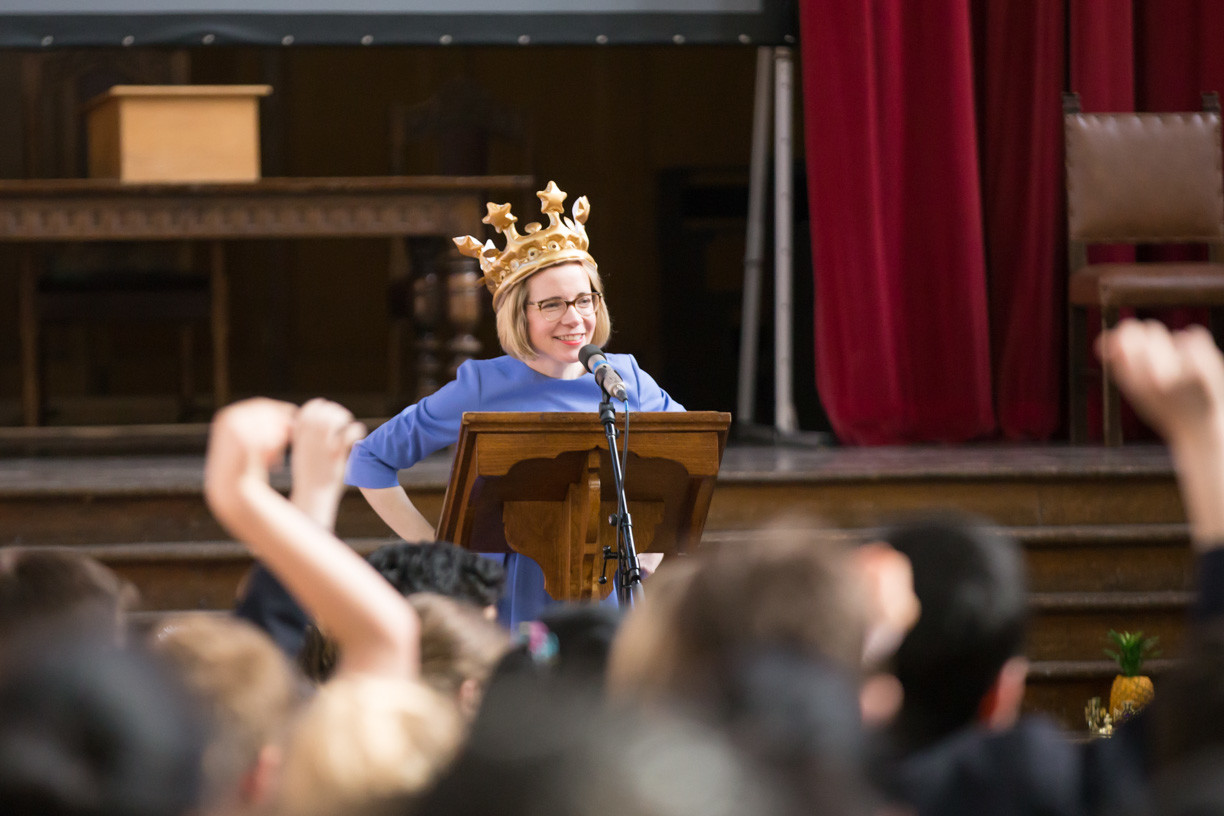 TV Historian Dr Lucy Worsley, best known for her BBC documentaries including Six Wives with Lucy Worsley, visited BGS to share her passion for history with pupils.
In a special event organised by Ilkley Literature Festival, Worsley, who is Chief Curator at Historic Royal Palaces, introduced her latest book, My Name is Victoria, to year 6 pupils from Baildon C of E Primary, Clock House School and year 7's from Bradford Grammar School.
With the aid of props including enormous trousers, a plastic pineapple and lots of crowns, Lucy explained Queen Victoria's complicated family tree and the coincidences that brought her to the throne, as well as reading from her book. Students also had the chance to test their historical knowledge with a quiz on topics such as the invention of the toilet and Queen Victoria's underwear!
Lucy said: "There's nothing I love more than visiting schools to scout out the historians of the future. I hope and believe that some of the talented students I met in Bradford will one day be snapping at my heels and trying to get my job!"
Lucy also met with A level history students from Bradford Grammar School and answered their questions on topics as diverse as the Russian Revolution, Ann Boleyn and why history is a great subject to study at university.
Hermione Baines, Head of History at Bradford Grammar School said: "Lucy Worsley has made her reputation as an extremely effective and enthusiastic communicator of the stories that make up history on-screen. It was a real privilege to see her in the flesh. She had 200 schoolchildren spellbound with her explanation of the complexities of the Georgian succession problem – no mean feat! We were delighted that she was able to stay for an excellent Q & A with our A Level historians."
Laura Beddows, Programme Coordinator for Ilkley Literature Festival said: "We work year round to deliver events like this to schools across the region and it's always brilliant to see authors sharing their passion for a subject with students. Today has been particularly as special as students from Baildon C of E were able to join with those from Clock House and Bradford Grammar to meet Lucy and learn about the more fun side of Queen Victoria."
"I hope and believe that some of the talented students I met in Bradford will one day be snapping at my heels and trying to get my job!"