"At BGS the classes are very small and this makes a big difference."
Meet Michael Shepherd
CURRENT STUDENT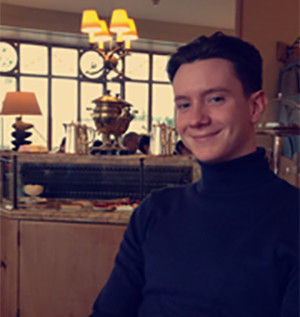 Why did you choose Bradford Grammar School (BGS) Sixth Form?
"It really offers opportunities that other schools don't.
The facilities are amazing with squash courts, swimming pool, and other sports grounds all in a very friendly environment. There's also a fantastic pastoral team that is very focused on making sure that students are cared for, supported and happy. I looked at other schools but I didn't feel the warmth that I felt at BGS. The others weren't as personal and had too many students. At BGS the classes are very small and it makes a big difference.
How would you describe the school environment of Sixth Form at BGS?
"The teachers treat you like an adult, they're extremely friendly and there's a general feeling that the onus of responsibility is on you – so there's mutual respect.
The environment definitely makes you feel like you want to behave responsibly, not only for yourself, but also you don't want to let other people down. Everyone cares for one another and encourages each other – it's great.
What do you think about range of subjects on offer at Sixth Form?
"Actually a large part of my decision to come to BGS was because of the range of subjects on offer.
They offer courses that other schools don't such as Classical Civilisation and a range of History subjects, which really interest me. I also take part in a lot of extra-curricular activities such as Squash and the Historical Society and I think taking part in these gives you that extra experience. I really enjoy it.
How do you feel Sixth Form has prepared you for your future?
"It certainly prepares you for university and it has a good track record of getting people into the top ones.
But it's more than just preparing you. The teachers offer support to make sure you follow what makes you happy as well as what you're gifted at. The School often runs career evenings where you can learn about university options and find out from successful former pupils which career paths they chose and why.
What would you say to other pupils thinking of joining Sixth Form at BGS?
"I've had a few friends that have said they'd like to come because there are so many opportunities.
It's the little things at BGS that make a real difference. For example, when it comes to Modern Foreign Languages you have a native speaker come to talk with you every week for about 45 minutes.
They help with fluency, grammar and have full conversations with you. We also go on some really interesting trips, such as France to a chateau in Normandy. I've also been to Auschwitz. All of these things make you realise how much of an advantage and boost I've been given at BGS and this is what I would tell other people.
"The teachers offer support to make sure you follow what makes you happy as well as what you're gifted at."