"There is always a club to take part in and lots of different ones."
Meet Lucy Robertshaw-Wareing
CURRENT PUPIL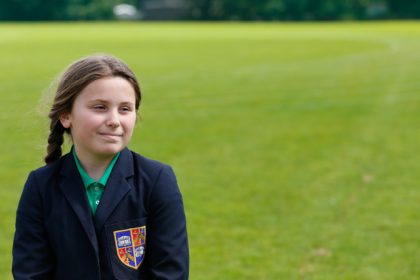 What do you enjoy most about Bradford Grammar School?
"I enjoy the friendly people and the lovely environment.
The school lunches are so good and really enjoyable, even for vegetarians. You can always choose a hot or a cold meal. We have good facilities and equipment.
What activities do you take part in?
"There is always a club to take part in and lots of different ones.
They start new ones as well. I like Swimming Club because it gives everyone a chance; it is for all levels.
What events in the school calendar do you most look forward to?
"I look forward to school trips the most, especially the residential ones.
Day trips are good too. I made a new friend at Ingleborough Hall which I hadn't expected to.
What are you hoping to do when you leave school?
"I've always wanted to be an actor or comedienne and my friends help me do that.
I can talk to them about funny things and they laugh.
"I've always wanted to be an actor or comedienne and my friends help me do that."