"The thing that impresses me most is the involvement of staff and their fantastic relationships with the students. Every time I go to Parents' Evening I can't quite get over how well they know my son, and how well they understand him – they are very inspirational teachers."
Meet Judy Patterson
CURRENT PARENT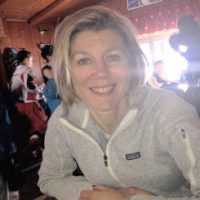 Why did you choose Bradford Grammar School (BGS) for your child?
"It really came down to recommendation and reputation. We have a friend with children there, and we knew one of the teachers very well.
And by reputation, they recommended it and we thought it was fantastic. Apart from that, it's on the train line from Ilkley, which is really good. The size of the School classes also really appealed to us. They're very small and intimate which makes for better relationships between teachers and their pupils.
What do you think BGS offers that sets it apart from other schools?
"Well my son Harry came to BGS from another school where there's about 250 students per year compared to 120 or so at BGS – so it was a big difference when he changed schools.
The key thing for Harry was that he was the type of student who may go under-the-radar, so to speak, and could easily get lost in a bigger class size. I really feel he's had much more attention than he would have done in a bigger school with bigger class sizes. This has been instrumental in his growth.
How has attending BGS impacted on your child's daily life?
"Being at BGS has really raised Harry's aspirations.
I think throughout life he's had quite a nice easy time, been laid back and never really put much pressure on himself.
I just feel that BGS makes him raise his game on every level and aspect of his life, from the uniform to the expectation in terms of work and sport, which he's really into. He puts more emphasis and effort into everything – which I think is fantastic.
I also think, like most people who attend BGS, he'll come to realise that he's had all these fabulous opportunities and that he needs to build on those and take advantage of everything he's learnt going forwards. I mean they're very lucky students and I'm sure they'll go on to build on that like other former pupils do.
What does your child most enjoy about BGS?
"He really enjoys the social life. He has loved the fact that BGS offers so much in terms of trips and sports. So for example he's in the upcoming Fashion Show.
There are lots of opportunities that I feel he's taken, and I know that he loves being in Sixth Form. From the outstanding facilities, the small class sizes, spending time in the gym to reading and using all the available resources in the new Library. I think he really appreciates the buildings and what the School has to offer and is just enjoying his life there.
"I would heartily recommend the School to absolutely anybody, especially if you're someone who values the kind of community links and historical aspects of the School, as well as its progressive outlook."