"I know I want to be happy with whatever I choose and that's what nice about BGS, it's not just about academic excellence but ensuring you're happy in what you study and achieve – because that's just as important as passing exams."
Meet James Liu
CURRENT STUDENT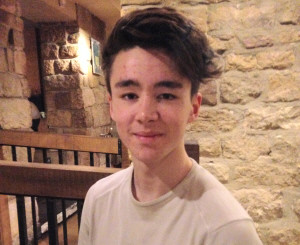 Why did you choose Bradford Grammar School (BGS) Sixth Form?
"I chose it because it's a great School academically.
A lot of my friends were coming, and I liked the sports side of BGS. I like rugby and the School seemed very strong in that area.
I also really liked the buildings. The main building is beautiful and very impressive, but it retains a feeling of warmth and it's more down to earth, compared to the other schools I visited.
The Learning Link, which is quite new, and a mix of modern and tradition is also really nice. I was here before that was built so it was great seeing the process. But more than anything it just felt right when I visited – so that helped me to make the decision very easily.
What do you enjoy most about BGS?
"One of my favourite parts is the Sixth Form Centre. It's a dedicated area for us all and it's always where all my friends are.
I also love rugby at BGS. The academic side is great too and some of my subjects are so interesting such as politics and economics.
The teachers at the school really help and support your learning. They provide everything you need and have all the information at hand. They definitely focus on you as an individual, instead of looking at the whole class and treating everyone the same. They'll stop and make sure everyone individually knows what's going on and that you're happy with the progress.
Smaller class sizes certainly help. In Politics there's only eight of us and History, approximately 14. It's so much easier to be heard which is fantastic and I know we're very lucky to have that experience.
How is Bradford Grammar School preparing you for further study/your career?
"We're really encouraged to be independent at BGS.
So we have to get our own sources and books etc and we're left to our own devices to spend free time in the Library, getting on with our work and making essay plans.
The teachers are always available for any support needed and they really help you through a lot. But in a good way there's a common understanding that you get out what you put in. I really feel like I'll be fully prepared for University and this is important for me.
Where do you hope to see yourself in the future?
 "I'm hoping to go to University, and Sheffield is my first choice, to do History and Politics.
I know I want to be happy with whatever I choose and that's what nice about BGS, it's not just about academic excellence but ensuring you're happy in what you study and achieve – because that's just as important as passing exams.
"That's what nice about BGS, it's not just about academic excellence but ensuring you're happy in what you study and achieve – because that's just as important as passing exams."