"BGS really builds a holistic sense of who students are and Michael has developed a strong, enquiring mind. Having those opportunities to learn as an independent thinker prepares them much better for University life, which is why I'd thoroughly recommend the School."
Meet Jackie Ford
CURRENT PARENT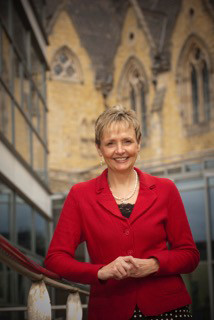 Why did you choose Bradford Grammar School (BGS) for your child?
"There were a number of reasons really.
BGS has a very strong reputation, my nephew came here, and my friend's children, so I knew how fantastic it is from first-hand experience.
But I also chose it for the academic strengths and pastoral support. The combination of all three is very powerful. Also, for future career opportunities, there is a great structured programme for support with University life and beyond.
What do you think BGS offers that sets it apart from other schools?
"Well first of all the facilities are fantastic.
The School has an environment that's extremely impressive but inviting. I love the experience of walking through the main entrance – you get a buzz. The new Library is second to none and the squash facilities that my son Michael uses are especially good.
The Sixth Form centre is an excellent dedicated resource. I like the way that students are treated as adult, independent learners which I think is very important, especially in preparing them for the future. It certainly seems to bring out the best in Michael. The support with careers, University advice and visits from lecturers from Higher Educational Institutions has been extremely beneficial for him as well. The other thing my husband and I have found of great value is the support the students get for UCAS applications.
BGS also runs great seminars, invites a variety of guest speakers and provides many opportunities to get involved with the students. The Historian Dan Snow was a superb guest speaker and we also recently listened to an excellent presentation by Dick Moore, the mental health ambassador – it was so interesting. The whole package is all about an all-round approach that brings out the best in students.
How has attending BGS impacted on your child's daily life?
"Michael's definitely growing in confidence and he's taken an interest in clubs and activities which have been really useful to him.
He's confident but not arrogant and that's very important as there's a strong sense of humility at BGS – which I really admire.
Michael is also set a fair amount of homework which is useful in engaging him outside of School and helping to become more familiar with his A level subjects. Socially he's met some great people that he spends time with both inside and out of School. Sometimes it can be hard when you move to Sixth Form from another school but he settled in really well and very quickly which means a lot to both of us.
The combination of Michael's individuality, the School, and the support of teachers and fellow students alike, mean that he is developing into a lovely, sociable person.
What does your child most enjoy about BGS?
"He enjoys a lot of things but he really has benefitted from all the extra-curricular activities and he recently visited Krakow as part of his A Level History course.
He'll also be going to France at Easter to brush up on his French, which he is looking forward to. He also enjoys the numerous Religious Studies trips and he went on a Philosophy trip a few weeks ago. The academic support, pastoral activities and extra-curricular elements of BGS are really what Michael thrives on.
What would say to another parent who was thinking of sending their child to BGS?
"I would strongly encourage them to send their child to BGS.
It's great for academic achievement and is a fabulous step in supporting them into the next stage of their life. BGS really builds a holistic sense of who students are and Michael has developed a strong, enquiring mind. Having those opportunities to learn as an independent thinker from a young age prepares them much better for University life, which is why I'd thoroughly recommend the School.
"It's great for academic achievement and a fabulous step in supporting them into the next stage of their life."