"Small classes really help because it feels very personal to you – you're not just another student. My teachers are so inspiring, honest and will tell me when I need to strive in certain subjects, because they see hidden talent."
Meet Clementine Hall
CURRENT PUPIL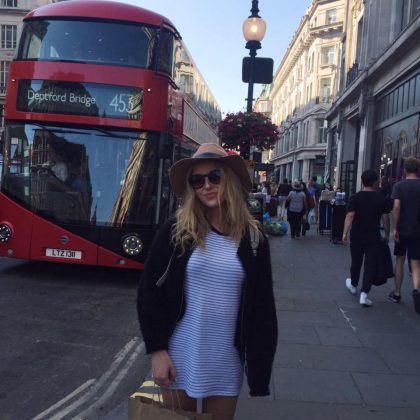 Why did you choose Bradford Grammar School (BGS) Sixth Form?
"Well first of all my brother and grandad also went to BGS so I already knew of its outstanding reputation and that it was a great option.
My parents said I could have gone anywhere, but I knew I wanted to go to there. When I looked around other schools I really felt like BGS seemed like the best choice to push me further and really stretch me to my limits.
But it's more than just the way the School challenges pupils, I also knew the Music and Drama departments were fantastic and this is where my passion lies. So it has a good range of subjects, which can cater to everyone and are well thought of around the country. I would definitely say BGS offered the opportunity to get everything I wanted out of School life.
How would you describe the school environment of Sixth Form at BGS?
"I would describe it as a league of its own.
Instead of following a certain structure it focuses more on you as an individual. It's really a pathway to knowing who you want to be, what you want to do in the future and helps you to find ways to get there – no matter what. A big part of that is the relationship you have with your teachers. They know exactly how to encourage you and help you to find your way. You can ask them about anything; it's an open door.
Small classes really help with this because it feels very personal to you – you're not just another student. My teachers are so inspiring, honest and will tell me when I need to strive in certain subjects, because they see hidden talent. When I was thinking about going to drama school a teacher gave me a list of the universities that would be best and when it came to Parents' Evening they helped my parents to realise that this was a very real option for me. They will do anything to help you achieve your goals and help others to see the value as well.
This means you can really excel in areas where you have that potential. But they also know what you're not as strong at, which is just as important, and if you ever feel like you're slipping in a particular subject you know you can get back on board quickly with their support.
What has BGS Sixth Form helped you achieve?
"I've gained a lot more confidence in everything really.
I'm not as academic as some other pupils and it's helped me in that respect. Every subject is regarded as important as the other. More importantly I think it's all about encouraging independent thought, which is exactly what I was looking for. I suppose I've always been independent in that way and that's what I like the most, pushing myself to know more than what I've been told.
Also ever since I can remember, I always wanted to be actress and now I focus on Theatre Studies so it's so much easier to excel in this subject because I can focus a lot more of my time on it, including some lesson time. I'm in every School play that we do. I also play the saxophone so I'm in every orchestra; every band and I also take part in Choir. At BGS you definitely find a certain talent you excel at.
What would you say to other pupils thinking of joining Sixth Form at BGS?
"If you're not afraid to go out and get what you want, and to take every opportunity then it's perfect for you.
The teachers can help put your independent thoughts in exactly the right place – to get you to where you want to be.
"I would like to go onto studying Drama and Acting then who knows. I would love to maybe become an actress or write and become a playwright or possibly direct. I love the language of theatre and performance."